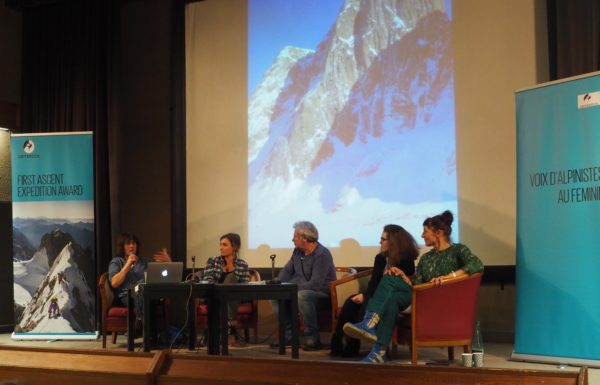 GRIT&ROCK FOUNDATION ANNOUNCES THE WINNERS OF THE INAUGURAL FIRST ASCENT EXPEDITION AWARD
In September 2016 GRIT&ROCK FOUNDATION, a UK based charity, established an annual international expedition award to promote female first ascents. The aims of the FIRST ASCENT EXPEDITION AWARD are to encourage female participation in pioneering alpine ascents and to further the understanding and exploration of the unclimbed peaks. The Award is open to individuals and climbing teams of any nationality with a majority female participation.
On February 10, 2016, the jury consisting of Lise Billon, Lydia Bradey, Catherine Destivelles, Masha Gordon and Victor Saunders reviewed 28 applications from 15 different countries and has announced the winners of the inaugural  Award in three categories:
PERFORMANCE (USD4,000)
– Marina Kopteva, Galina Chibitok and Anastasia Petrova (Ukraine/Russia) for the new route on Cameron Peak in Sichuan Province of China.
EXPLORATION (USD2,000)
– Natalia Martinez, Ines Dussaillant and Camilo Rada (Argentina/Chile) for the "Unchartered Cordon Aysen' on the icecap of Northern Patagonia
– Cristina Pogacean (Romania) and Nasim Eshqui (Iran) for an unclimbed peak in Zanskar Valley, India
SPECIAL PRIZE (USD1,500):
– Dawa Yangzum Sherpa and Dawa Gyalje Sherpa (Nepal) for a new route on the east face of Chukkima Go in Nepal
Lydia Bradey, a member of the jury, said: 'The jury was extremely impressed with the wealth of the applicants' experience and the creativity of climbing objectives displayed in the applications for the Award.  The winners of the three categories had matched their own considerable skills well with their chosen goals. This match between confidence and ambition, skill and objective, was a criteria for the jury's choice.'
Masha Gordon, the founder of GRIT&ROCK said: 'The quality and the number of applications in this inaugural year for the Award goes to show extraordinary ambition and skill in female alpinism. In the fall of 2017, we will be watching these 4 formidable teams make attempts on their chosen objectives. These journeys will no doubt inspire others to dream up a formidable first ascent goal for the 2018 Award.'
BACKGROUND INFORMATION ON THE PRIZE WINNERS:
PERFORMANCE AWARD goes to an team of accomplished high-altitude alpinists. Marina Kopteva and Galina Chibitok won the Russian Golden Iceaxe Award in 2011 and Karl Unterkircher Award in 2012 for their first ascent of a route on Great Trango Tower. They also were honoured with the Steel Angel Prize for being best female alpinists in 2009, 2010, and 2013 (with Petrova).
The two EXPLORATION awards go to teams that have put together projects that look to further our understanding of unclimbed peaks and, as individuals, have demonstrated capacity to execute in demanding environments.
Natalia Martinez and Camilo Rado have worked extensively on exploring remote corners of Patagonian icecap  with beautiful first ascents projects 'UNCHARTERED: Cordillera de Darwin' and 'UNCHARTERED: Cordillera de Sarmiento'. UNCHARTERED contributes to the mountaineering community by making all research and maps available free of charge. 'UNCHARTERED: CORDON AYSEN' will take them and Ines Dussaillant to the icecap of Northern Patagonia.
Using the phrase of Jane Morris to describe the pioneering ascent of Everest by Tenzing and Hillary, the pair of accomplished climbers – Christina Pogacean and Nassim Eshqui  – come from two 'small and interesting' countries of Romania and Iran. For their project they chose a beautiful objective of the unclimbed peak H17 in remote Zanskar Valley in India.
The SPECIAL PRIZE this year goes to a team of sherpa brother and sister Dawa Yangzum Sherpa and Dawa Gyalje Sherpa who share some 15 summits of 8,000m peaks. The jury wanted to support their further development as they are looking to put this new route alpine-style on a the east face of Chukkima Go, a mountain next to a village they were grew up in.