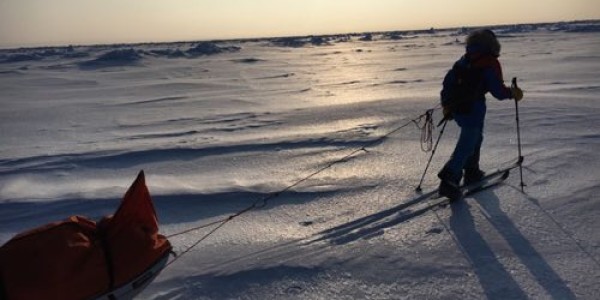 Day 4 of the expedition: another 10 miles in the bag – now 60% done (!), no team member in the water (yay!) and no bear feet prints (hum!) – an uneventful day and a 10 hour slog.
'We could have driven across the whole state of Colorado today', says Eric… and here we are, on top of 4,000 meters of water barely managing to ski 10 nautical miles. I hum… 'an art of 'slow travel'… We break into banter during our scant 10 minute rest stop.
It is indeed an art of slow travel – laden with heavy sleds, skiing through soft snow that feels like sand… as if to break that turtle pace even further.
On days like these, at first you notice everything – changing reliefs of ice, sculptures shaped by ocean pressure and wind, snowflakes that glitter like freshly cut diamonds. And then you no longer notice much, carried away by your train of thoughts. Levitating until your energy levels crash.
I found skiing today trying at times. We started doing longer intervals of 1.5 hours before a break. At first I have not adjusted my food intake and by the end of the period I felt dizzy from double vision, a clear sign of low blood sugar. I had to double up on gels, chocolate and GU chews to get my energy level up to keep on skiing. Mental space balance had to be mended with podcasts.
So special thanks of the day goes to Sarah Williams Tough Girl podcast featuring Roz Savage who has crossed 3 oceans in a canoe. Her point on 'unyielding routine' as a key to success on these journeys resonated deeply. Hence our routine of twice 1.5 hour shifts followed by one hour followed by a soup lunch break repeat once over. It's all about putting in hours, folks, and putting one ski in front of the other. In slow motion.