A black small heli was waiting for us on a tarmac of the Kathmandu airport. The heliport is in the middle of an aircraft cemetery. There are lots of small and big machines that are no longer destined for flying and so they slowly rot under unforgiving sun. Our helicopter was surrounded by two Westerners who were busy attaching GoPro cameras to the outside and inside of this fragile flying caterpillar. This was Discovery TV crew who are in the middle of production of the series on the 'Everest Rescue' or, in my language, 'Ambulance Chasers'. The series will be capturing the drama of a human vs. an altitude quest.
Cheery and competent Laurence, a Swiss helicopter pilot (my son Theo's dream job), was recounting in front of the camera the tally of his day that included, among other more mundane things, a transportation of a 'small' body bag of a local climber who perished from hypothermia near the Island peak. One's heart sinks both in mourning and in respect to the seriousness of the quest of nature vs. a man. You can't dwell too long on this as it strikes your determination and will. You do a lot of that thinking before you embark on this journey. Yet this sobering moment is a necessary marker for the need for continued humility.
We had an uneventful hour-long heli trip to Pheriche with spectacular scenery. Laurence, the ace, navigated rain, black clouds and found safe passages lower down in river valleys. We got very close to the striking and voluptuous beauty of Ama Dablam and got a brief sneak preview of the Everest summit.
Pheriche at 4200m is a starting point of our trek to the Everest camp. Colin and I have both climbed a lot over the past year and felt comfortable starting high. Our arrival coincided with the Nepali calendar celebration of the anniversary of the deadly avalanche. The physical village bears no signs of wreckage. Yet human scars remain. Today I walked to the monument to all those perished during their ascent attempts on the highest mountain in the world. The monument – a split metal cone-mountain with names inscribed inside – is designed to provide you with an intimate moment of being close to the dreams and aspirations of those who have not returned back. It now has the many names of those who have not come back from the 2015 season, including 5 sherpas of the Adventure Consultants, the company who is providing us with climbing support. Another stark reminder.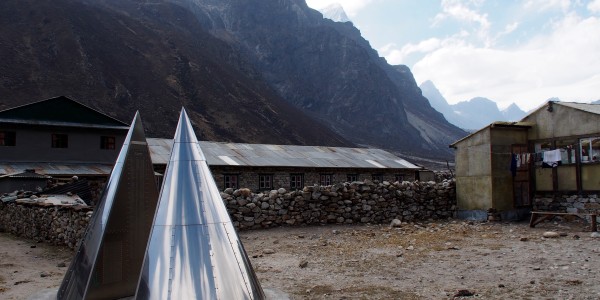 On a more cheerful note, we are both feeling well with good energy levels. Tomorrow we will be moving up higher to Lobuche at 4900m where we will spend 2 further nights before arriving to the Everest Base Camp on April 27th.