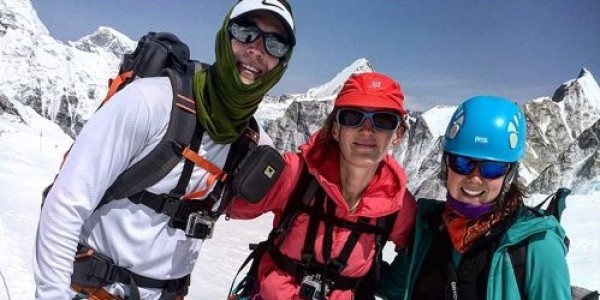 Day 11 of the
#Everest2016
expedition: I get awakened from an 11 hour slumber by a shout: 'Wake up,
Rob Smith
is here'. I slowly open my eyes, collect my wits and crawl out of the tent. It's gorgeous morning with bright blue sky with no sign of last night's heavy snowfall.
I give big hug to the amazing Rob, my South Pole guide, and
Claudia Camila Lopez
and
Louis Kosztelny
, good friends from Manaslu, who are coming down from their acclimatisation for the Lhotse summit attempt. Seeing the tribe of expedition friends here is what makes this place oddly feel like home. Yeah, we are climbing Everest – it's special and intimidating and uncomfortable at times – but somehow running into old friends makes this place feel normal and gives one this sense 'everything will be alright'… like we did reach South Pole after a horrid storm, or the summit of Vinson (grand to bump into Rachel, a doc from ALE on a random ladder or
Josh McDowell
in the icefall) or have
Victor Saunders
storm into AC comms tent the other day…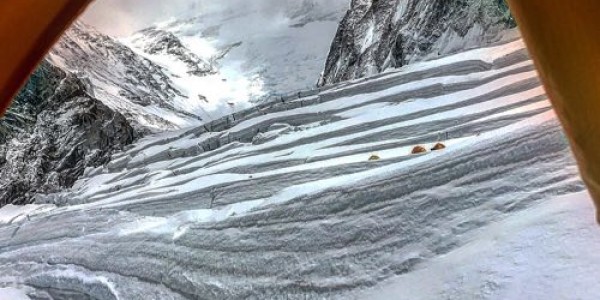 We spent this morning heading higher in Western Cwm over glacial layers to the base of the plateau that leads to C2. We made good time and got much closer to Everest… Feeling healthy and happily settled into acclimatisation routine. Walk-lunch-nap-afternoon snow blizzard-dinner-slumber.
It's 5:30pm and we are about to receive weather forecast for the next few days to inform our movement higher up the hill. The plan is to move to C2 tomorrow to continue the process of growing an unhealthy amount of red blood cells.