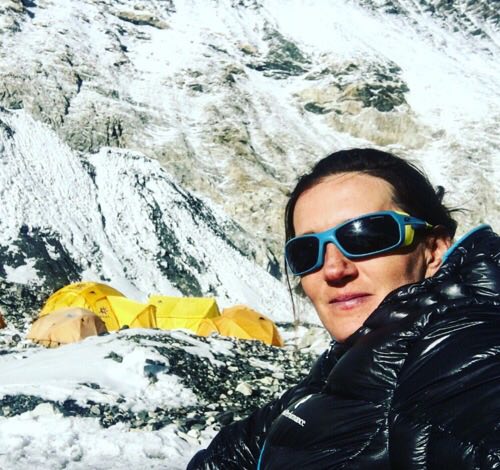 Today Camp 2 is abuzz with noise. Caravans of downsuit-clad sweating climbers are streaming through an odd collection of tents towards the Lhotse face to get in line for the chance of the Everest ascent in the next few days. Lots of nationalities, heaps of determination and singular focus on a personal journey.
THE window. Not so clear cut this year with no clear pattern  or a high pressure system. Chancing good-enough days to give it an honest try.
This is what you folks imagine – a 400 people line at the Hillary step. And this is when you say 'Why climb this mountain?'
Chatter abounds with a few repetitive question: 'When is the Indian army going?' (60 odd people not known for their mountaineering skills) or the '7 Summits' group, another poorly organised group on the hill.
Plotting, front-running, ill-wishing. Everest at its worst.
We were lucky in that we arrived to EBC at the end of April when most of the teams  were done with their rotations. We had camps to ourselves and little traffic jams on what will now be busy routes. We had the romance of 'Everest, a great conquest'.
This is about to change in the next week as some 200 climbers accompanied by sherpas move to try to conquer this severe and unforgiving beauty. This is when and how accidents occur. This is why front-running is abound. But as in game theory no one wins as  no one plays rationally due to the lack of trust.
Most of the climbers would have been sitting on their hands for 2+ weeks waiting for their chance. Full of boredom with limbs slowly losing muscle power.
As for me, the past 6 days of sitting literally on the footstep of Everest at C2 has been extremely beneficial given our late arrival to Nepal.
What have I done? Been lazy. Conserved energy. Emptied my mind. Consumed my Kindle filled with the books on mountain tragedies. One – the terrible 1986 season on K2 – comes to mind. The only two people who survived were literally the two who were larger and spent their time trapped in blizzard at 8000m not moving in their sleeping bags.
So this is my daily routine for the past 6 days. Climbing does not feature…period:
9am wake-up with rudimentary personal hygiene followed by breakfast of 2 toasts with peanut butter (high in calorie) and some porridge
9-11am – killing time also known as passive rest. Listening to podcasts or staring at the Lhotse face counting bodies on the move.
11-12pm – holding court in AC's tent with a tea party with friends from Madison Mountaineering trading stories and anxiety as to 'what's the weather like?' and 'when is the window'?
Lunch: ramen soup and pasta. In London, I am known for ungracious manners of fast eating. Here it takes an hour to consume that plate of pasta.
Nap in a boiling tent with Everest and impossibly blue skies peering through the tent flap.
Wondering down to another friendly camp to trade stories. Trading texts with the family who take no pity on my weather misery and remind me that life on the hill bears no resemblance to the life at home so I better enjoy every moment I've got.
Dinner: garlic soup and dal bhat with another Sunday text from the family who – Theo and Freya included – were singing along to the 'midlife crisis' song in the car. In my honour. Precious… A moment of laughter followed by the lights off at 8pm…
On the move (hopefully) tomorrow.