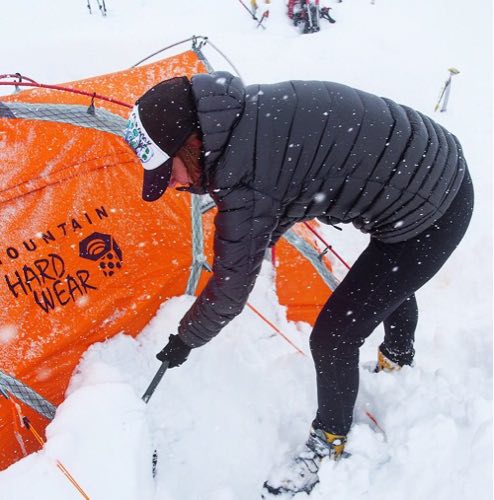 How much can it possibly snow in 24 hours? Yesterday it was 1 meter of fresh snow. Today it's forecasted to be 1.5 meters. Day two of a whiteout. It's Friday and the weather outlook looks the same until … next Wednesday. This is when the forecast ends :). Good news is that weather forecasts here are infamously unreliable. Still rough unstable weather explains why Denali summit rate this year stands at 18%.
Our team – Ossy, Josh and I – are camping at 7900ft camp at the gateway of the Death Valley. Our goal is to climb Denali via Cassin ridge, rarely attempted beautiful knife-thin classic alpine route. We would need 3 days of little wind and clear skies to accomplish this ambitious goal. Cassin is a committing route that requires patience for a good weather break, acclimatisation for speed and strong teamwork of able alpinists. Plan B – should the weather not cooperate – is to climb the West Rib, another ridge that is technical yet less demanding with more bad weather escape points. Plan C is to run up the normal – West Buttress – route, one I did to successfully summit on June 23, 2015.
To have staying power here, lower down the mountain, we need to have ample food  to eat and fuel for melting water for hydration.
So it's tent time for the next 2-3 days. Interrupted by shovelling time to dig the tent out of a snow mound that gradually builds up around the walls. Interspersed by having a good laugh and stories over still luxurious meals of real food. Having summited Everest just two weeks ago, I welcome this quiet leisurely time. In an endurance challenge resting counts for training. 12 hour nightly slumber in Alaskan midsummer white night. In a whiteout.