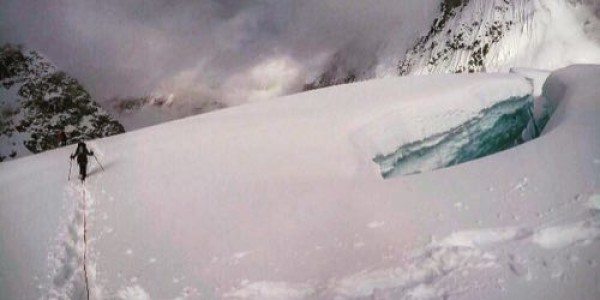 Late Saturday night we used a short-lived break in foul weather to explore the Death Valley and get to the bottom of an icefall below the West Rib ridge to deposit our cache for Cassin.
This year no climber has been to this narrow valley filled with a overflowing marzipan glacier. Imagine a multi-layered wedding cake with severely cracked white icing. Decorating went wrong. That's the Death Valley's filling that is surrounded by spectacular iced rock southern ridges of Denali on the left and no less spectacular steep slopes decorated by overhanging seracs on the right.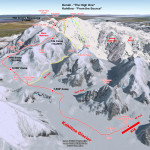 Moving through a terrain like this is a great adventure. Different from a fixed-rope route of the Khumbu icefall or a well-trodden, still challenging, path of the West Buttress, the normal route on Denali. Key core skill required is an ability to move on glacial terrain amidst giant crevasses, awareness of the time of the day one can travel under seracs and a gut feeling for when it is time to stop. I am very fortunate to have extremely skilled and experienced climbing partners who have successfully summited avalanche prone deadly Pomori and several of equally menacing peaks in Pamir with a list of many achievements extending to climbing Everest without oxygen. They have the hard and soft skills of helping the team navigate and climb Cassin, this rarely attempted elegant Alpine route.
Last night we moved quickly covering some 5km of slopping deeply crevassed zigzag in 4 hours. That sounds like a snail pace but here it's a hair's feat. Given that Kalhitna glacier moves every year, there are no helpful topo maps. One has to move by trial and error. That makes it traveling here both treacherous and exciting. We managed to get to the bottom of the icefall – a small version of Everest's Khumbu – by 11pm, still light in Alaskan white night. From here it's a 400m climb to the base of Cassin. Good weather gave way to a whiteout. We have dug a hole to deposit food and equipment before retracing our steps back to camp 1.
The snow blizzard on the way down was quickly filling our footprints. By 1am we were in a tent peering over photographs of the route , sharing jokes and eating good hearty meal. Replenish and restore before a weather window gives us a chance to move up.