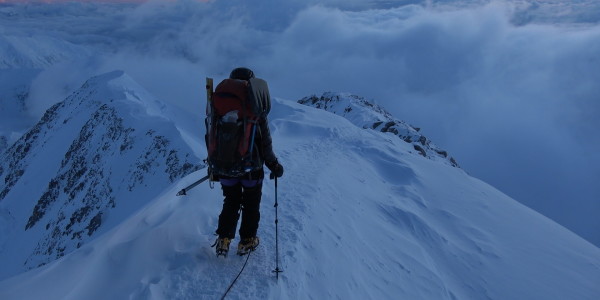 As we are walking down from the summit of Denali at midnight, I gain a second wind. I now lead the team down an exposed steep ridge. We are still very high at over 17,000ft.
Clouds form a cotton wool blanket over the valley. Only Mounts Foraker and Hunter protrude through this soft whiteness. Gentle pink light veils the peaks taking away any suggestions of menace or danger.
I feel woozy from tiredness yet elated. It has now sunk in that my world record mountainthon is over. That there are no far flung places I have to be. No more nights in a tent. I can shed the down clothing and heavy boots. Hang my ice tools and helmet.
Home. Freya and Theo. Tim. My family. I smile.
I look again at intricate shapes of ridges with their knobs, pyramids and towers. My spirit soars and I know that I will have to be back soon. To experience again lightness and joy from overcoming my fears.
The past 7 months of the world record challenge have changed me. For the better. Exposure to cold and exercise conditions cause our bodies to secrete less cortizol, a stress hormone when confronted with uncertainty. I am calmer and at peace. Spending over a 100 nights in a tent has made me contented with having less. Swapping material for happiness in being in the elements.
I see how the challenge has made a permanent mark on me. And I get even more convinced that a charitable project I have will make a difference in the lives of  inner-city girls. Use exposure to the outdoors to help enhance a power of mental endurance. Grit. GRIT&ROCK.
Thank you Sharpie Extreme for making a contribution to this cause. Let's make a permanent mark together!
This post is sponsored by Sharpie. Opinions are my own.