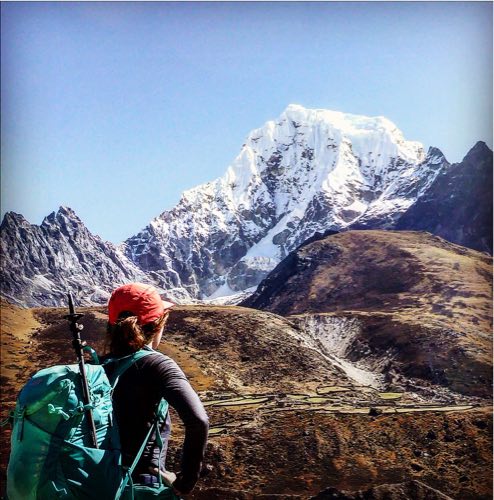 Reportedly, somebody asked Edmund Hillary on his way back from a successful first ascent of Everest in 1953 whether he would consider climbing Ama Dablam. His reply was 'It can't be done!'
A few years later, in 1961, an American team that included Barry Bishop (Brent Bishop's father) did make a first ascent. Today Ama's base camp is buzzing with some 500+ commercial climbers and the magic is gone. Well, the extraordinary geometry of a mother enveloping a child in a protecting gesture is still there but the silence and the pull of the puzzle-solving is gone.
Cholatse, the mountain we are climbing, has been likened by Uelli Steck to the Eiger of Nepal. Extraordinary broad steep ice-covered West face, vertical NE wall and the beautiful intricate SE traverse. Steck climbed the NE face in a record-breaking 39 hours with a short respite on a tiny bivy ledge in 2005. Conrad Anker summited alpine-style via the SW ridge the same year with the North Face team. In the subsequent years Cholatse remained a prestigious highly technical summit. When in 2014, Anker heard of a successful fixed-rope commercial attempt, his reported reaction was the same as Hillary's: 'This can't be done!'
Today 3 small commercial groups are hoping to repeat the success of 2014 via the SE ridge and step on the beautiful rarely climbed 6400m summit.
So here we are sitting at 4700m in a grassland base camp on the Tibetan border under impossibly blue skies gazing at the steep summit of the 'Eiger'. Growing an unhealthy amount of red blood cells. Going high and sleeping low. The set-up we have is more independent than a typical commercial expedition with a good basecamp, great food and rope-fixing by sherpas. No guide, just your own judgment on preparing your body for the summit push, getting altitude-fit and picking the right day. A group of 5 independent climbers. Stuart, full Explorers Grand Slam holder with 6 8,000m peaks under his belt, Deric, a neurosurgeon, Don, an avid climber from Colorado, Paul, my climbing partner and I. Yesterday we touched the headwall at 5500m where the real climbing difficulties start. With the summit fixing likely to be finished tomorrow, we will head in a couple of days time for a summit bid on October 29th bar the emergence of a yet to be named cyclone from the Bay of Bengal. The latter makes me smile. Basecamps like this one come alive with a 'worry of the day': rope-fixing, human traffic and yes… a mysterious show from the Bay of Bengal. The healthy thing is to head for the hills away from the noise, to keep your mind focused on the important: your energy and determination to climb.