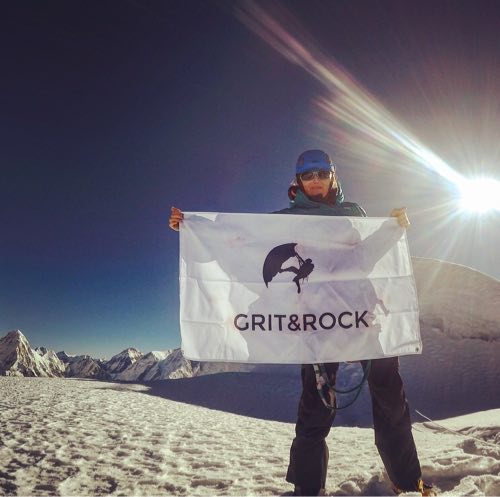 Cholatse may have been an odd choice for an acclimatisation peak on our way to do a first ascent of Kangchung Shar. This remarkable summit is a formidable objective on its own. Rarely climbed it stands proudly in spitting distance from Everest.
Novice to Himalayan climbing, I first heard about the peak from Phil Crompton, the leader of Altitude Junkies, during my Manaslu expedition in the fall of 2015. 'Awesome snow and ice mixed climb'. I mentally filed a note to self as 'something to be done'.
My climbing partner and I arrived at the BC on October 23 and had a first proper view of the peak. Its broad face is festooned with mushrooming snow cornices. A fine line of the ridge with steep exposure. Approach protected with a gigantic boulder field. An overhanging serac and a cascading glacier straight above the crampon point. A force to be reckoned with. A puzzle to be solved.
Breaking down the route like this one into familiar parts helps me overcome the shock and awe of an ascent. In August of this year I spent a few weeks in Chamonix doing long D+/TD- routes. This time climbing in the middle of the night during the summit push I was extremely appreciative of the two routes I did with Helias Millerioux who led me alpine-style on the Traverse of Grand Jorasses and the Frendo Spur. SW ridge of Cholatse has elements of the both, some 2000m higher and this time with a fixed rope for added protection on the steep knife-edge snow ridge.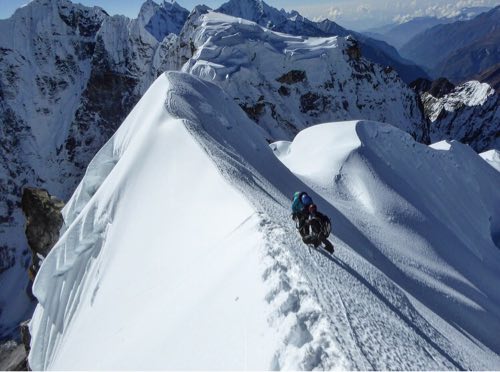 After acclimatising for a few days, we decided to take advantage of the weather window and give a summit attempt a go. 3.5 hours through the broken moraine and up a steep 120m headwall we have arrived at Camp 1.
A few hours of warming up in a tiny tent pitched on a sloping snowpack, drinking ramen soup reminded me of Camp 3 on Everest. Human warmth and hot liquids are key to comfort. 3am start with a bit of hot water with ginger biscuits and we were off. The next 4 hours went by: problem-solving in the dark, working up the rock band, ice climbing on a steep frozen ridge, yearning for the sun to rise above the cornice to warm  our bodies up. Energy ebbing and flowing. Misery of the pre-dawn hour giving way to gentle pink glow warming up ranges around.
An hour before the summit, we ran into Phil Crompton cold and fast coming off the summit. I later learned that Cholatse was the last peak Phil summited with his long-term climbing partner Sami who has since perished in the spring of 2015 on the slopes of Annapurna. A homage to a friend lost.
The last 10 minutes of the climb took me up a gentle snow slope with a remarkably detailed and unobstructed view of Everest. Long gray moraine of Khumbu glacier. The icefall so close you can feel its blue deadly chill. Like a real-life detailed model a child glues together and lovingly paints afterwards. A dollhouse that you kneel next to, opening up and shutting doors to the rooms. Pain points and happiness points. Fear of failure and joy of pulling yourself together. Egotism of others and one's own egoism. Empathy and love. Fear and triumph. All packed neatly and reduced to the scale of 1:100,000. There at a distance.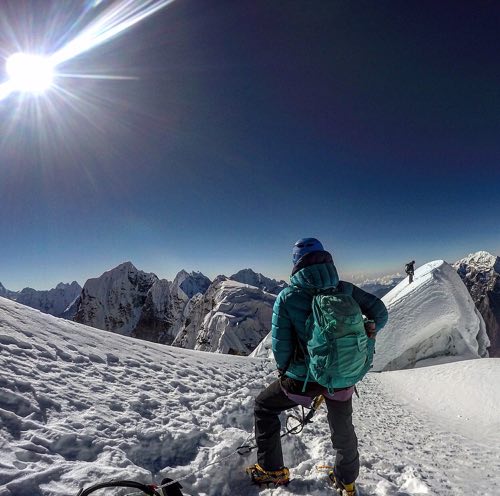 My breathing deepened and heart rate normalised. I was on a round the world trip, far from here yet enjoying every step towards the summit's fin festooned with prayer flags. October 23, the day I walked into Cholatse's base camp, marked the one- year anniversary of my mad pursuit. Here and now I was about to become the first British woman to set a foot on this summit. Somehow this seemed petty and unimportant. Before stepping onto the summit, I took a last look at the long tail of Khumbu glacier. Appreciative of the road I traveled. Grateful to both who have enabled me and to those who doubted me. The ying and yang of personal growth.