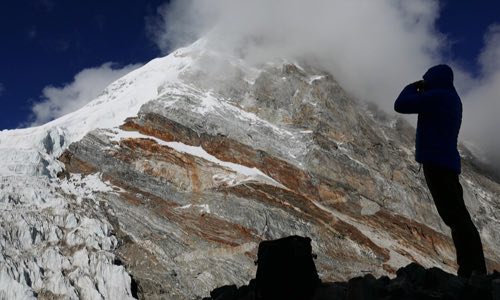 'The yaks broke free and escaped last night'…Hmmm, that was not planned. Standing in front of 200kg of gear and duffel bags I had hard time imagining an 'escape act' from a trio of these rotund and phlegmatic creatures… but there it was the very first crux of our first ascent of Kangchung Shar.
The morning started slow… Expeditions start slow. Your body and mind resist an act of leaving a warm teahouse with its lingering smell of burning cow dung. Last shower, last facebook "like", followed by the first steps back on a rocky path winding up into lapis blue skies.. An hour in and you are high on dopamine flushing through your blood. Once you see the rock face you have set your mind on climbing and you are half-way there.
This was my first experience of putting together an expedition. Apart from learning the basics of Nepalese permitting and logistics, aptly taken care of by Iswari Paudel,  the crux of this first ascent was putting together the right team. Unflappable, capable and yet very human Ben O'Connor Croft, aka Ginger Ben, carried tiny Theo in his backpack some 7 years ago and has since climbed much of what there is in Chamonix. Joshua Jarrin and I have shared the very last Cliff bar (as in the only food item of the day) on the 4th day of the Cassin ridge epic. A few months later we were reborn together on one fine August morning having narrowly escaped a very close call: a rock avalanche on Charmoz Grepon. Pasang Bhote was our Everest sirdar whose gentle smile and right values helped me get through some dark hours on the big E. Paul Taylor has over years shared with me his pragmatic and earthly take on survival of Himalayan epics. The team.
The peak. 6061m Kangchung Shar, or UIAA Peak, lies in close proximity of Cholatse and Lobuche on the Tibetan border in the Himal region of Nepal. It has never been climbed before and was put by the Nepalese government on the list of 104 new peaks approved for climbing in 2014. The choice of this first ascent was its easy accessibility and a beautiful snow and ice ridge line. I remain very grateful to Garreth Madison for his generosity in sharing his views and research on the peak.
With first ascents, there is no topo and the guesswork starts as to what is a summitable route.
Shar, the Pyramid. Pasang Bhote and I have climbed the rocky side to 5600m to recce approach and a possible route deeming the rock too flaky to put protection in. Ben and Josh headed to the snow ridge and came back with good news on accessibility and  climbing strategy.
'Straight-forward approach with some interesting problems above 5800m.' An overhanging gargoyle was the word used to describe a crux of the summit ridge.
Today will be spent marking the approach, putting some tracks for the lower part of the route for the midnight alpine ascent on Friday.
Standing last night under huge starry Himalayan sky, I was picturing that gargoyle… hoping to cajole it into turning away and allowing us into the summit's fold.